Accommodation
The sixth Africa Carbon Forum will be held at the Safari Court Hotel in Windhoek, Namibia.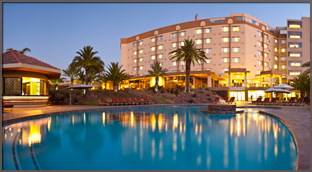 The Safari Hotels consist of the three-star Hotel Safari and the four-star Safari Court Hotel and Conference Centre. They are situated approximately 4km away from the city centre.
The Hotels are nestled in a lush garden with a large variety of indigenous trees, shrubs and lawns with various rock features and water fountains, creating a peaceful atmosphere of first-class accommodation and state-of-the-art conferencing and banqueting facilities.
The Safari Court Hotel is offering a special rate to ACF participants during the event dates.
For more information and bookings, please contact:
Tel: +264 61 296 8000
Fax: +264 61 235 652
email: [email protected]
Logistical information for ACF participants
For a list of hotel options for your accommodation near the venue, please see: HOTELS IN WINDHOEK
Important note on visa requirements
All visitors to the Republic of Namibia must have a valid passport (at least for six months after date of departure). For the purposes of attending conferences or workshops, participants from all countries require an entry visa, except for those coming from the 56 exempted countries listed here. The delegates are also recommended to check if they require a transit visa for travelling via the Republic of South Africa or Angola.
Deadline for quick visa facilitation – Monday, 16 June!!!
The Government of the Republic of Namibia is generously facilitating free-of-charge quick visa issuance for all ACF participants.
Please send us the following documents:
scanned copy of your complete and signed visa application form

scanned copy of your valid passport
Send both documents to [email protected] with the subject line: ACF - VISA REQUEST FOR NAMIBIA
The DEADLINE for requesting the visa is Monday, 16 June.
For queries on the visa application process, please contact:
Ms. Padelia Ndjaleka
email: [email protected]
OBS: please also copy any visa related correspondence to [email protected]
Health requirements
The law for entry into the Republic of Namibia requires no immunizations except for participants travelling from an area where Yellow Fever is endemic. In that case, a Yellow Fever vaccination certificate is mandatory and the vaccination must be obtained at least 10 days before entering the country.